CASE 21
Katariba, Certified Nonprofit Organization
(June 10, 2020 to June 22, 2020)
Distance learning assistance for households in need 
"Create the new cycle of hope with Education" Project press conference support. 
Providing logistical support for children during the pandemic
In the spring of 2020 the world fell into an unprecedented situation with the spread of COVID-19. Among the various efforts by businesses and organizations to assist people in need, Katariba, a certified non-profit organization, was launched to provide support to the children of Japan. At the start of March nearly all elementary, middle, and high schools temporarily closed, and Katariba began providing support to children who lacked internet access at home. In mid-June they began providing enhanced support through the "Create the new cycle of hope with Education" Project. Hitoshizuku was contacted to provide assistance for the online press conference to announce the start of this project. We spoke with Katariba's representative, Ms. Imamura, to hear about her thoughts on the project and ways that her awareness of PR activities has changed through her collaboration with Hitoshizuku.
Holding the first online press conference, and building new relationships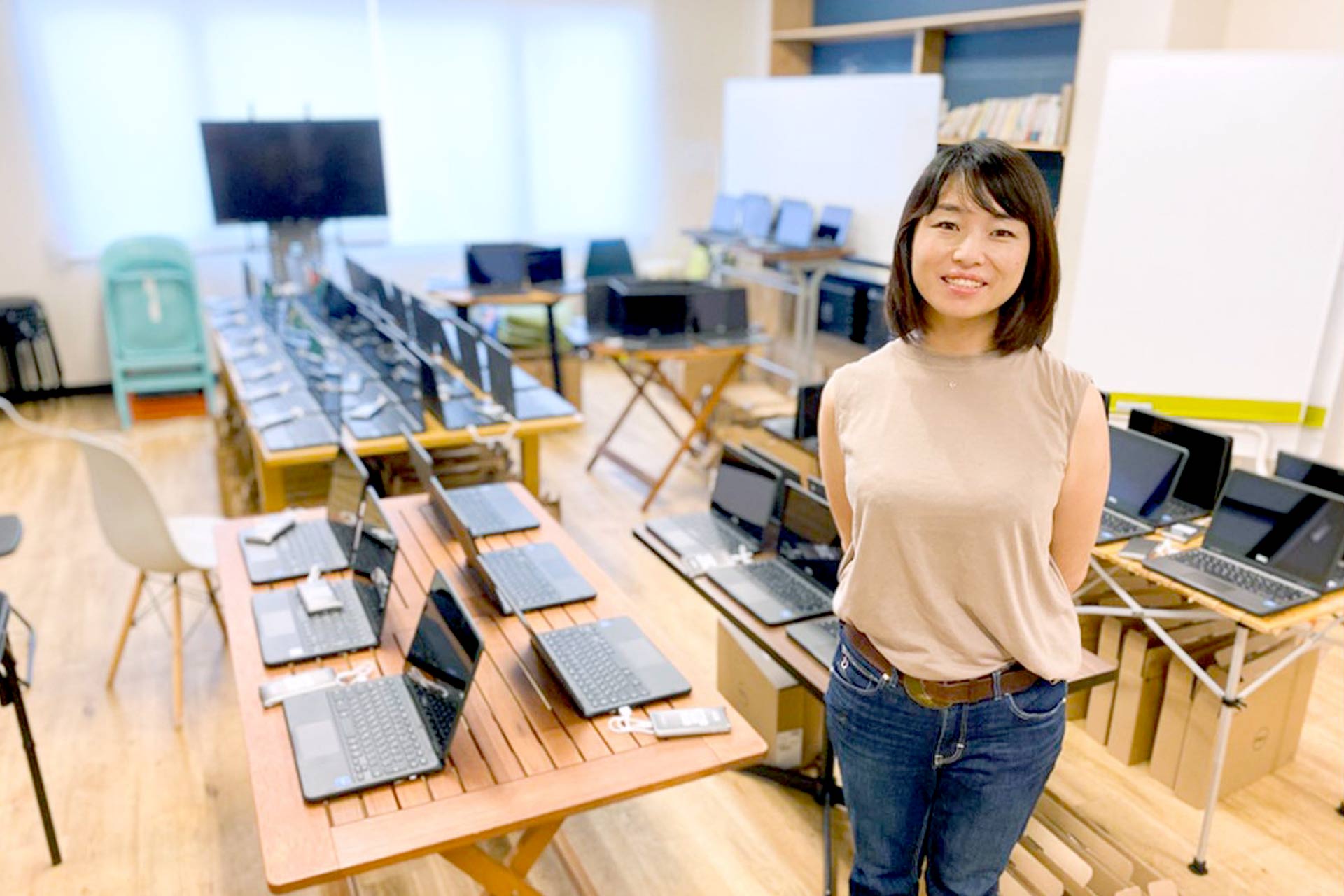 Hiroshi Kokubo, Hitoshizuku supervisor (Kokubo):
Our company provided support for an online press conference where Katariba announced the "Create the new cycle of hope with Education" Project. To start, could you tell us again about the process and overview that led to this project?
Kumi Imamura, Representative Director, Katariba, Certified Nonprofit Organization (Ms. Imamura):
As a result of of COVID-19, the Ministry of Internal Affairs and Communications issued a basic labor force report in April 2020 (Reiwa 2) which found that effects from business restrictions had resulted in 5,970,000 people out of work, while the number of part-time or non-regular employees had dropped by 970,000. The data showed that among those people, 280,000 were women aged 35 to 44, a common age for mothers.
In actuality, 1 in 7 children in Japan lives in relative poverty (defined as being poorer than the majority in a country or region). According to the Ministry of Health, Labour, and Welfare's report on the living conditions of university students from welfare households, only 19 percent of children from welfare households continue on to college or university from high school. Children raised in impoverished homes encounter learning obstacles and suffer from a decrease in self-esteem, often completing only a middle or high school education and ending up in low-paying jobs.
As an NPO active in the field of education, we were able to predict that children in impoverished households would suffer even more as a result of the pandemic. With the decision to temporarily close all schools in the country in early March, we worked to provide various forms of assistance, including Katariba Online, a free online hangout space, free computer and Wi-Fi rental to households in need, learning support, and lunch distribution.
The "Create the new cycle of hope with Education" Project was an expansion of those support activities, consisting of 1) efforts to create online face-to-face interaction opportunities for children, as well as for their guardians, 2) efforts to provide learning support and new opportunities specifically tailored for each individual child, 3) lending computers and Wi-Fi to children without online access, and 4) evaluating the project with the help of researchers.
Kokubo:
What led you to contact our company for support with the online press conference?
Ms. Imamura:
Due to the daily change in the number of COVID-19 infections and constantly shifting social situation, we decided that holding an online press conference would be the best option in terms of speed and limiting infection risk. But, in fact, this was the first time for us to hold a press conference of any kind.
That was when I went to Mr. Daisuke Yamazaki. He was one of the founders of the "Create the new cycle of hope with Education" Project and has been a longtime friend, so I asked if he had any advice on how to hold a press conference. Mr. Yamazaki introduced me to Hitoshizuku, and I immediately contacted you.
We had a tight schedule, but I'm grateful for the dynamic support we received with meetings, establishing a PR office, media notification, and the flow of everything on the day of the press conference.
Kokubo:
We're grateful for the opportunity to provide logistical support to such a meaningful project. Were there any effects you noticed as a result of our company's support?
Ms. Imamura:
Up until now our interactions with the media have been limited to interview requests that we answer. I didn't really understand how to build a relationship with the media. This was the first time we actively reached out to them to hold a press conference, but with Hitoshizuku providing support alongside, I felt comfortable creating those relationships.
Creating a new public relations department after recognizing the need to communicate their organization's stance and vision for the future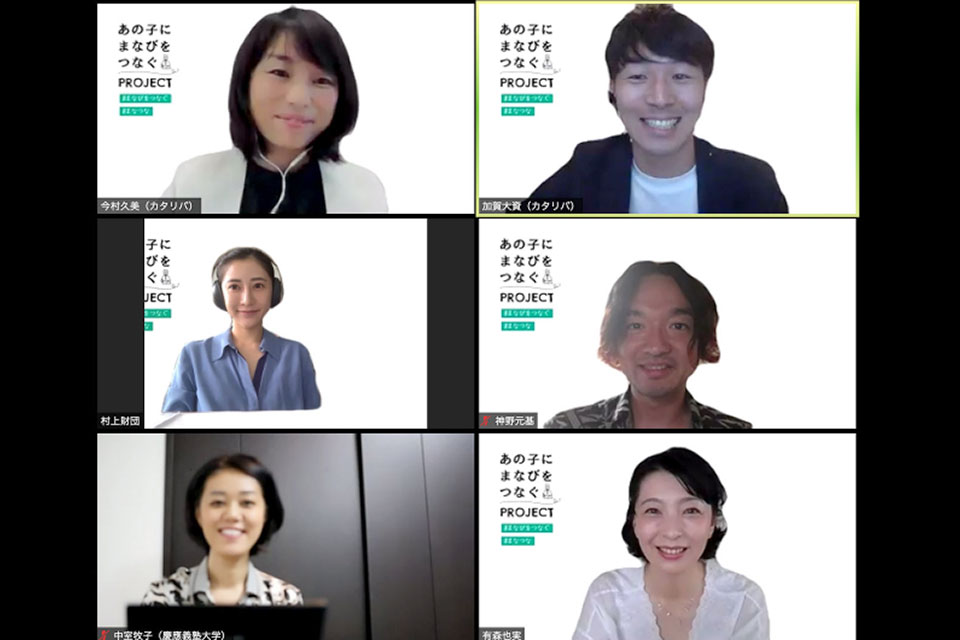 Kokubo:
Thank you very much. You announced a crowd-funding campaign during the online press conference. Why did you decide crowdfunding was the best approach given that there are numerous ways to raise funds, including grants and corporate sponsorship?
Ms. Imamura:
Students became unable to attend school at the start of March, and we felt a real sense of the entire country turning into a disaster area. As we discussed what we could do for the children, we started with supporting online activity through things like free computer and Wi-Fi lending.
At the time, there was a lot of talk about how to keep students from falling behind in their studies, but that conversation was based on the premise of financially stable households.
However, before we can discuss students falling behind, we need to recognize that there are students from impoverished households who don't have a learning environment in the first place. I felt a real sense of despair over the fact that these children were being overlooked. Japan is considered a developed nation and the problem of child poverty is often difficult to see, but the pandemic created a situation of indifference and lack of flexibility among people, which in turn seems to have brought the differences between these two groups of students into even sharper relief.
I think one of Katariba's responsibilities is to communicate this issue to society at large, so we chose crowdfunding as a way to engage numerous people in support of our project.
Kokubo:
Right, you were able to take advantage of the open nature of crowdfunding.
Ms. Imamura:
Another important aspect was the agreement we got from The Murakami Family Foundation. We set a goal of raising 15 million yen, and thanks to The Murakami Family Foundation's generous offer to match all donations up to an overall 5 million yen total, it meant we were able to set up a matching donation system. The kindness of The Murakami Family Foundation increased our donation amounts which in turn enabled us to assist more children.
Kokubo:
I'm sure it was really encouraging to have the support of The Murakami Family Foundation and other founders and supporters. Were there any changes in your organization's activities after the press conference?
Ms. Imamura:
Katariba celebrated 20 years since our founding this year, and we currently have over 140 staff members working their hardest for Japan's children. Throughout the course of our business we've been recognized as an organization that supports education activities, and moving forward I feel it's going to be crucial to actively communicate our organization's stance and vision for the future. This is why I decided to establish a public relations department.
Kokubo:
That's wonderful! But it seemed like Katariba already had an established PR presence. How would you like to improve upon your current capabilities moving forward?
Ms. Imamura:
That's nice of you to say. We've relied primarily on social media to provide daily updates on our activities, but I want us to take the next step and be a little more purposeful and polished. For example, when an instance of abuse or other social issue that affects children occurs, I'd like to communicate our perspective as an organization while also proposing Katariba's resources as one potential solution.
Kokubo:
I hope communication within the context of Katariba's perspective will help convey the philosophy and activities of your organization even more.
The Next Stage: Increasing the number of like-minded partners for the sake of our children's future
Kokubo:
Setting PR activities aside for a moment, what do you envision as the path forward for Katariba?
Ms. Imamura:
First of all, I think we need to develop leaders capable of taking on the task of socially enhancing children's educational support.
In the 20 years that I've worked at Katariba, I unfortunately haven't seen an increase in "diagonal relationships," that is, relationships apart from parents and teachers, in the lives of Japanese children. I want these diagonal relationships to be a natural part of society because without these supporters disparities and divisions will only increase, regardless of the child's upbringing.
This is exactly why I want to create a system for attracting people who want to become involved with educational activities. For the sake of our children's future, moving forward I want to begin increasing the number of like-minded partners we have.
Kokubo:
I hope we're able to improve children's futures by conveying the current situation to society and increasing the number of supporters.
Ms. Imamura:
Yes, we plan to also communicate the necessity of adult supporters for children's learning environments through evidence-based messaging.
I think Japanese education will continue to become more and more online and distance-based due to COVID-19. But in order for children to safely access computers and the internet, we need adult support.
This is why the "Create the new cycle of hope with Education" Project is conducting joint research with Professor Makiko Nakamuro's research lab at Keio University's Policy Management Department. We plan to spend half a year verifying effective online learning methods for parents and children to better inform our computer and Wi-Fi lenders. We hope the educational issues found from the results can be used to inform policy proposals going forward.
Kokubo:
Everyone at Hitoshizuku wishes Katariba the best as you take on this new challenge. We look forward to working with you in the future.
 
Photographs courtesy of Katariba, Certified Nonprofit Organization
RECENT WORKS
| | |
| --- | --- |
| Name | Hitoshizuku Inc. |
| Address | 3–33 Kitanakadori Naka-ku Yokohama-shi Kanagawa 231–0003 JAPAN |
| Phone | 81 045 900 8611 |
| E-mail | info@hitoshizuku.co.jp |
President
Hiroshi Kokubo
Established
March 2016
Capital
3,000,000yen
Business
Advertising & Public Relations Agency
Planning & Produciton of Social Good Projects
Lawyer
Junna Tei / Yokohama First Law Office
Tax Advisor
Satoru Motokoide / Uniques Money Advisory
Labor and Social Security Attorney
Office Work Innovation