CASE 20
BSI Group Japan K.K.
(January 2019 to January 2020)
Hitoshizuku became only the 6th company in Japan to obtain this international standard for sustainable events. We're anticipating actions that should be taken now with an eye on the world to come.
On January 17, 2020, Hitoshizuku obtained ISO 20121, an event sustainability management system. Since the founding of our company in 2016, we've worked as a PR agency specializing in social initiatives through planning and logistical support for events that deal with social and environmental concerns. Our purpose in obtaining ISO 20121 was to organize the company knowledge we've accumulated through our work, and to continue to hold events that take sustainability into consideration while complying with the ISO global standard. During this acquisition period, Hitoshizuku selected the British Standards Institution (BSI) Group Japan K.K. from numerous certification bodies for their long history of global accomplishments and examiners with experience in sustainability. We sat down with Mr. Kansai Kusumoto who provided support throughout the acquisition process.
An event is a place to convey an important message. In order to continue holding events that take sustainability into consideration, we acquired ISO 20121
Asuka Takahashi, Hitoshizuku supervisor (Takahashi):
With assistance from BSI Japan, we became the 6th company nationally to obtain ISO 20121. It's a global standard for quality defined through numerous fields and covers everything from products and services to activity management systems. Could you tell us again about this system we obtained?
Mr. Kansai Kusumoto, BSI Group Japan K.K. Sales Headquarters (Mr. Kusumoto):
ISO 20121 (Event Sustainability Management System) is an international standard that supports sustainable event organization by identifying and managing the environmental, economic, and social impact and issues associated with their implementation.
In 2012, we used the BS 8901 British standard, which we were involved in developing, as a base to create an international standard. This came about because the United Kingdom took the lead to develop standards that would avoid typical "scrap and build" approaches to events, and instead make the 2012 London Olympics and Paralympics the most environmentally friendly competition in history. Since then, ISO 20121 has continued to be used for international events, including the Olympics and the World Cup. The 2020 Tokyo Olympics and Expo 2020 Dubai, both delayed until 2021 due to the spread of COVID-19, are planning to use ISO 20212 for their events as well.
It's not a very well-known system within Japan, but it's a standard used throughout the world and is particularly emphasized in Europe.
Takahashi:
Thank you. By the way, ISO 20121 is a standard that can be used for small events as well as large ones, correct?
Mr. Kusumoto:
That's correct. ISO 20121 certification covers all types of events and organizations engaged in event management.
In addition, the standard defines an event as anything "planned to attract attention at a time and place with the purpose of creating an experience and conveying a message." In other words, events have strong messaging qualities, and obtaining ISO 20121 shows that the event or managing organization is actively committed to sustainability.
For example, looking back over the history of the Olympics, the 1992 Barcelona Summer Games were planned around the key word of "environment," while the 2010 Vancouver Winter Games identified "sustainability" as their focus. The 2012 London Olympics made this focus even more explicit.
When international events such as the Olympics consider what message they want to convey going forward, the environment is often identified as a key global issue that needs to be addressed. This leads to the idea of sustainability and the idea of making the competition itself an environmentally friendly, sustainable event, which in turn results in adopting ISO 20121 practices.
Takahashi:
Hitoshizuku decided to obtain ISO 20121 after our company president, Kokubo, learned about it through Mr. Iku Tateishi, who was at the time a part of a company developing comprehensive environmental consulting businesses called AOI Environmental Consulting Co., Ltd.
The events that we've held, whether as logistical support partners or our own projects, have been planned with an awareness toward the environment and diversity, whether it's through reusable plates and cups for guests or using eco-friendly products with Forest Stewardship Council (FSC®) certification. Over time we built up knowledge among our staff members, so we decided to acquire ISO 20121 to organize and share that information.
When I was attending graduate school I learned about the meaning of event implementation for NPOs, so Kokubo asked me to lead the acquisition team.
Mr. Kusumoto:
Oh really? So you've been interested in events for quite some time then.
Takahashi:
That's right. There are a lot of different public relations approaches, but I think holding an event as a place for face-to-face communication is often the easiest way for a business or an organization to convey a message. This project aligned with my own interests, and I was eager to learn more about event sustainability.
Mr. Kusumoto:
To be honest, before I joined BSI Japan in 2013, I didn't have any prior experience with event sustainability, and general awareness of ISO 20121 within Japan was lower than it is today. However, as I worked to make ISO 20121 more widely accepted, I realized that this would be a standard that would shape global expectations in the future.
In fact, immediately after it was decided that ISO 20121 would be used for the Tokyo Olympics and Paralympics, we held a seminar that attracted so much attention that we received applications from over 100 companies. Still, because ISO 20121 acquisition isn't a requirement, there were only a few companies that actually progressed to the acquisition stage, and the number of seminar attendees decreased as well.
However, since around 2018 the winds have started to shift and the number of inquiries has slowly been increasing. We've been receiving requests from companies that are serious about event sustainability who want to put what they've been working on into a more concrete form, so the number of ISO 20121 acquisitions has been increasing.
Takahashi:
Unfortunately obtaining ISO 20121 does not mean that a company will have an immediate audit or see immediate results. Realizing sustainability efforts takes time, doesn't it?
Mr. Kusumoto:
Correct. Considering the budget, time, and effort it takes to obtain international certification, I think of it as a global-facing commitment as well as an expression of an organization's pride. We also want companies with a true sense of purpose to acquire it. Once that happens, we want to be able to support our customers in a variety of ways, which includes finding the most productive strategy for connecting this system to their business.
Our sense of purpose was raised through repeated discussions regarding event sustainability, and we even established an original "Sustainability Challenge List"
Takahashi:
I've heard that other companies that have obtained ISO 20121 include major sports clubs that operate pro soccer teams, and event companies. We're a small company of less than 10 people, so what was your reaction when Kokubo approached you regarding acquisition?
Mr. Kusumoto:
My first impression of Mr. Kokubo was that he's a nice person. But as we talked more, I realized that he also has firm beliefs.
Among those, what made me happy was hearing him say that Hitoshizuku absolutely needed to obtain ISO 20121. It wasn't about following trends, but rather a result of the strong feelings he has about event sustainability, so I knew I wanted to work with him.
Takahashi:
Thank you. Could you walk us through again what the steps were in obtaining ISO 20121 certification and the support BSI Japan provided?
Mr. Kusumoto:
The acquisition process involves setting clear milestones for what to do when, and consulting with the customer in order to determine the scale of acquisition according to their purpose. After that, a contract is exchanged and we inform the customer of the audit schedule and what needs to be done before then. The audit itself involves both document and on-site reviews which, once completed, lead to ISO certification.
Obtaining ISO certification is a goal, but it's also a starting point. How best to utilize it is a question not just for the organization, but also for us as the supporting organization.
Takahashi:
Obtaining an international certification like this was a big achievement for our company. The NGOs that we work with are expanding their business overseas, and I feel like the motivation within our company to practice global standards everywhere has increased.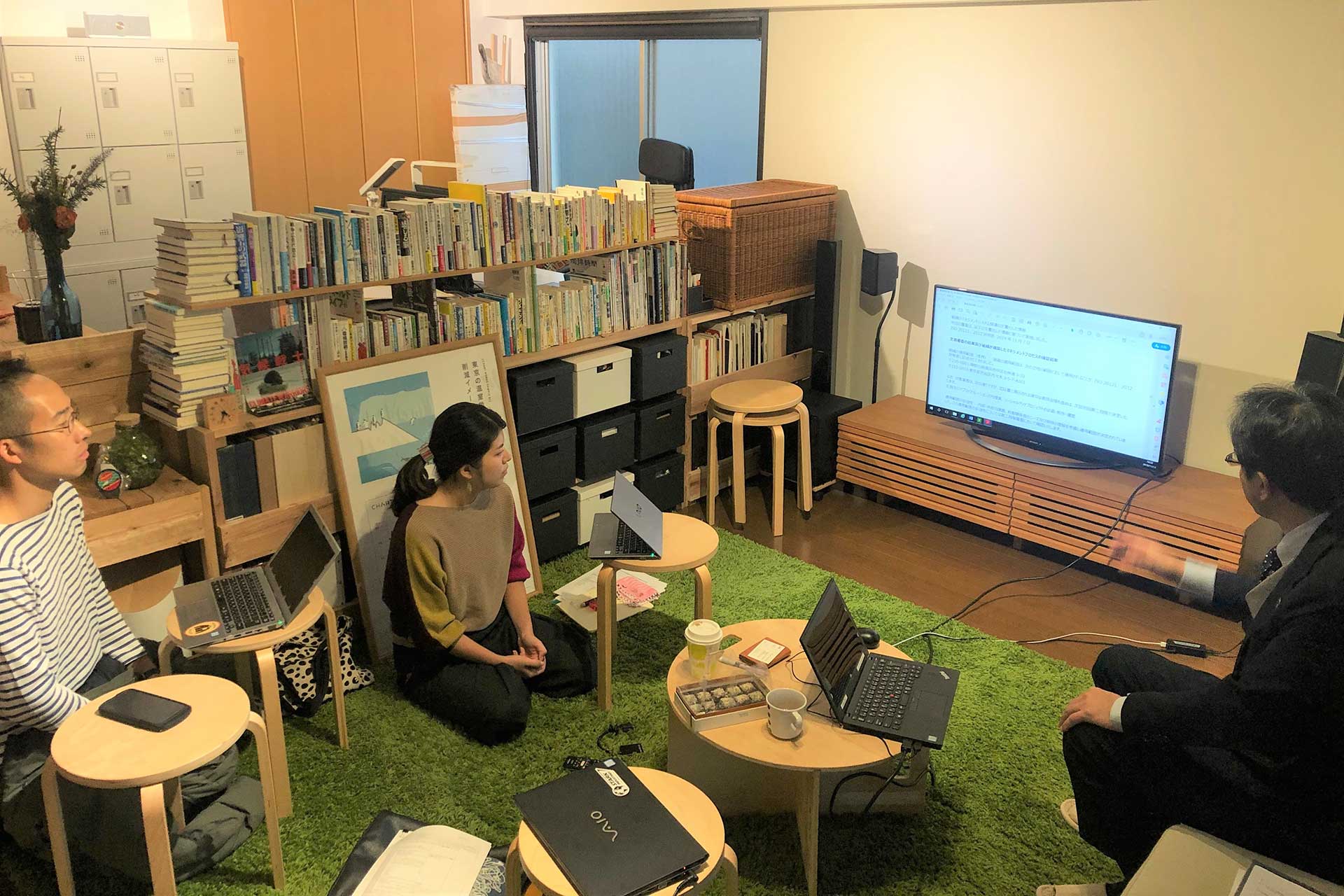 Mr. Kusumoto:
That's great to hear. We often get questions asking whether the ISO certification process is extremely difficult, but if it's within the certification standards, the organization can determine the content depending on their size and budget. How was the process for you on that point?
Takahashi:
Our image completely changed before and after the acquisition. I remember being surprised by how much we could determine by discussing things among ourselves.
Mr. Kusumoto:
We often receive feedback about how internal operations were reorganized, areas for improvement were identified, and company and employee strengths were discovered over the course of the ISO certification process.
Takahashi:
I noticed the same benefits. I was a bit confused by the high level of freedom, but I think sharing knowledge about event sustainability within the company, holding discussions and raising awareness of our goals made the process itself a valuable use of our time.
As you were supporting us through the ISO certification process, was there anything that stood out to you as unique about our company?
Mr. Kusumoto:
When it comes to major corporations, they often create a specialized department or team to approach the certification process. In some cases, when they can't spare the time or staff, they create a budget for a consultant to manage the process.
However, I think Hitoshizuku is unique in that even though the small number of staff members meant no one could focus entirely on the acquisition tasks, there was a high level of cooperation between members and efficient organization around your goals.
Takahashi:
Thank you very much. It's precisely because we have a small number of staff members that the PDCA cycle goes so smoothly I think.
What we've devised through our own initiative is not being bound by the typical concept of management, but instead developing a sustainability challenge list that actively generates ideas that go beyond prescribed responses. Taking advantage of our strengths as a PR agency, we've incorporated many different communication perspectives and created check lists that utilize each member's area of expertise to build a system that we continue to update.
By acquiring ISO 20121 and holding events, many organizations are raising awareness about sustainability and promoting the resolution of social issues.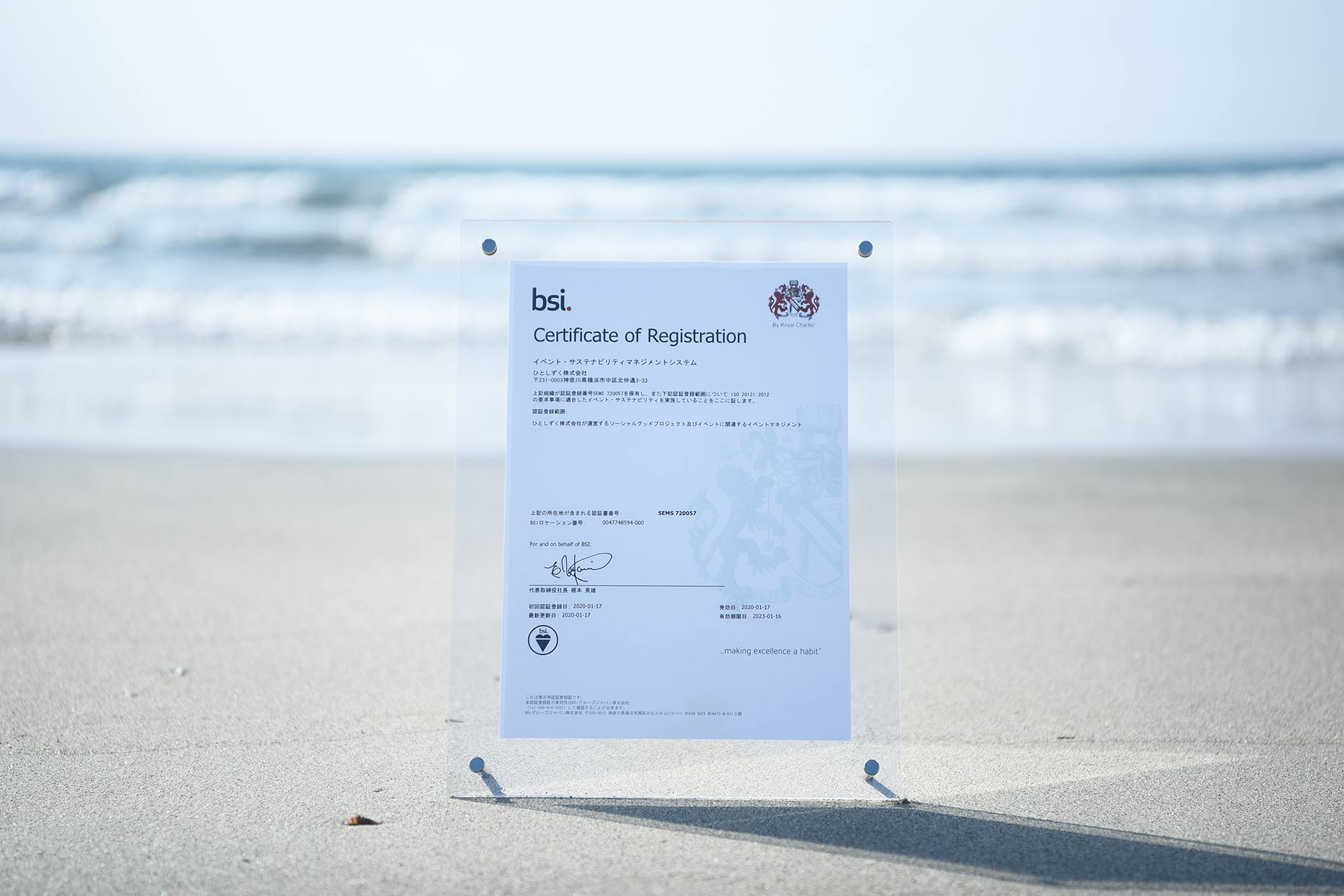 Takahashi:
What do you expect from companies that obtain ISO 20121?
Mr. Kusumoto:
By using the standard, we hope they'll be able to achieve their original goals. For example, it can improve internal communications and employee evaluation of the company, and accelerate service reforms while increasing customer satisfaction. We hope the ISO standard leads to increased stakeholder satisfaction, and ultimately to profits.
Takahashi:
The spread of COVID-19 has drastically changed our social situation. What do you think acquiring ISO 20121 means for society going forward?
Mr. Kusumoto:
As I mentioned before, obtaining ISO 20121 demonstrates an organization's social commitment. As more organizations obtain it, awareness of sustainability within society will be raised, and solutions to social problems will be promoted.
Takahashi:
With the acquisition of ISO 20121, our desire to realize sustainability with our partners has only grown stronger. The event sustainability management system consists of three standard pillars: environment, economy, and society. I feel that each partner to whom we provide logistical support has their own area of expertise, but also limitations to their perspective. When we support our partners' events, I'd like to go back to ISO 20121 and use it to ensure that everyone is working from the same set of standards.
Mr. Kusumoto:
It would be great if ISO 20121 could be used as a tool for stakeholders to exchange their thoughts and ideas, and raise awareness to bring about more substantial change.
Takahashi:
Currently (June 2020) it's difficult to hold any in-person events, but online ones have been increasing. Online events have the advantage of causing less environmental impact, so we plan to actively work on them in the future.
Mr. Kusumoto:
I hope ISO 20121-based events help Hitoshizuku realize its goals.
Takahashi:
Thank you very much. We look forward to working with you in the future.
 
Photography
Certificate: Hiroyuki Horigome
Mr. Kusumoto: BSI Group Japan K.K.
RECENT WORKS
| | |
| --- | --- |
| Name | Hitoshizuku Inc. |
| Address | 3–33 Kitanakadori Naka-ku Yokohama-shi Kanagawa 231–0003 JAPAN |
| Phone | 81 045 900 8611 |
| E-mail | info@hitoshizuku.co.jp |
President
Hiroshi Kokubo
Established
March 2016
Capital
3,000,000yen
Business
Advertising & Public Relations Agency
Planning & Produciton of Social Good Projects
Lawyer
Junna Tei / Yokohama First Law Office
Tax Advisor
Satoru Motokoide / Uniques Money Advisory
Labor and Social Security Attorney
Office Work Innovation