CASE 10
KUMIKI PROJECT Inc.
(June 2016 – February 2019)
A Journey to find our "True Goal," with Hitoshizuku.
KUMIKI PROJECT (KUMIKI) aims to increase the number of people who make their own life and produces self-renovation workshops throughout Japan with "DIT," or Doing It Together, as their concept. KUMIKI's President, Mr. Yuki Kuwabara, and Kokubo of Hitoshizuku met about 10 years ago, through a PR project while at their previous jobs. Since they started their own businesses, they've been working together and built a solid partnership, helping each other. We talked with Mr. Kuwabara about the way they've come and where they'll go in the future with Hitoshizuku.
"You taught me that PR isn't a magic wand. I've become painfully aware that media coverage is not the final goal."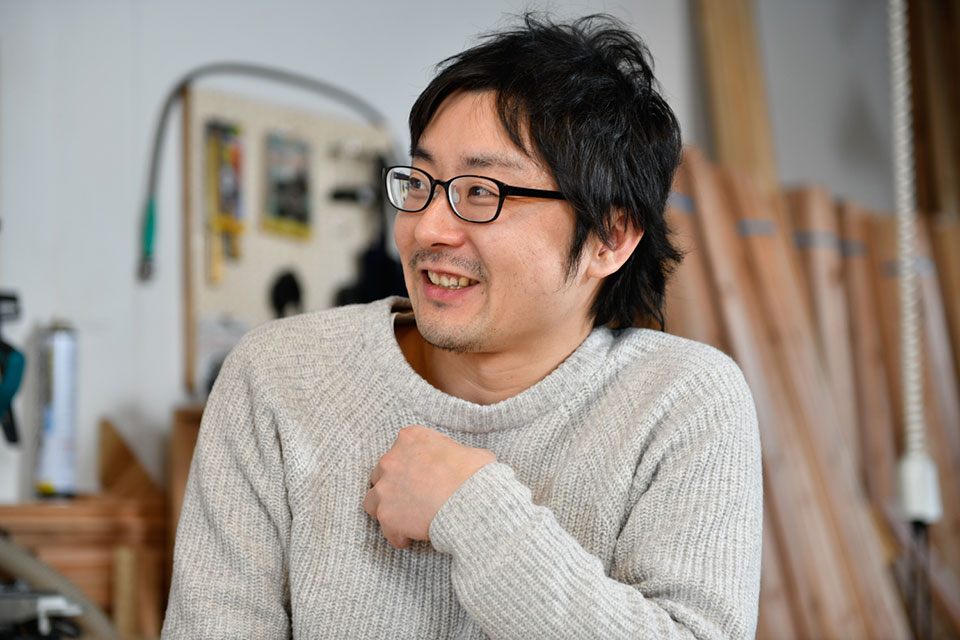 RiekoSato of Hitoshizuku (Sato):
KUMIKIrenovated our office, we have supported KUMIKI's PR, and at "Hibi-no-te" held in KILTA YOKOHAMA, we were one of the exhibitors. To us, KUMIKI is our partner, our peer, who has worked together with us since the beginning of our company.
While we're together today, I'd like to look back and evaluate the PR works we've done for your company, and also hear about the future, such as the society that KUMIKI, or you yourself, are aiming for or projects you want to work on with us.
Mr. Yuki Kuwabara, President(/Representative) of KUMIKI PROJECT . (Mr. Kuwabara):
About the PR, I remember that first we asked you to write our press releases. You were in charge of press releases and contacts when we started KUMIKI's services in 2016.
After that, by the end of the Summer of 2018, we asked you to write a press release for "KILTA ", which we opened in Yokohama as a hub of "DIT" for everyone. It was very speedy and accurate. As a result, it was featured in The Mainichi Newspaper, which I think was very effective. We visited companies around there to give presentations introducing the place and asking them to utilize it and the media coverage made those efforts more convincing.
Sato:
Is there anything you liked about our job, or anything you're not quite satisfied with? Though, it might not be easy to say in front of me.
Mr. Kuwabara:
I think it was very good that Mr. Kokubo told the members of our team that PR isn't a magic wand but something to build up, so just publicizing a press release is not the end.
At that time, my goal was set to be picked up by media outlets. So, as I said, we achieved that goal by being written about in the newspaper. But now I'm painfully aware that the actual goal isn't that.
The true goal is how we build communication so that people around there keep loving and utilizingKILTA . With that kind of far-sighted goal, we need to organize which phase we are in, how much budget we have and what we do with that. I'm aware that we should put that into solid action from now on.
"How can we make the local community aware of KILTA?" is actually our immediate issue right now. What should we do so that mothers in the area come by and use the space? There are more people who saw the place in the media and visit there, which I'm happy about, but it feels like neighbors are somehow being left behind.
I guess there are many business owners, including myself, who haven't been able to have a clear goal. Where should we get to after publicizing information – we didn't have time at releasing about KILTA and couldn't pursue it, but it would've been better if we had thought it through with you.
Sato:
Setting a goal is always difficult for us, too, and I agree that we could've been more careful about that with more time. We have to start after we set a goal and deepen it as a shared idea with our working partners. Without that, I would feel anxious if I'm doing the right promotion, or if I feel a partner's feeling unsure about it.
Mr. Kuwabara:
It's encouraging that there is someone who thinks together with us about where to go and reminds you about it sometimes. It tends to be hard to see from the inside of the organization. I think it would've been even better if, instead of simply setting a goal, we had clarified what checkpoints we should be reaching as we work towards that goal.
It's not about PR, but now I feel that when we work with outside people, such as a designer, it's difficult to move the project forward as a team without common evaluation criteria. Setting a goal and steps to the goal are essential for working together with many people.
Shared studio "KILTA YOKOHAMA" is a base for DIT. After the first anniversary, they took a new step to be a family-friendly place.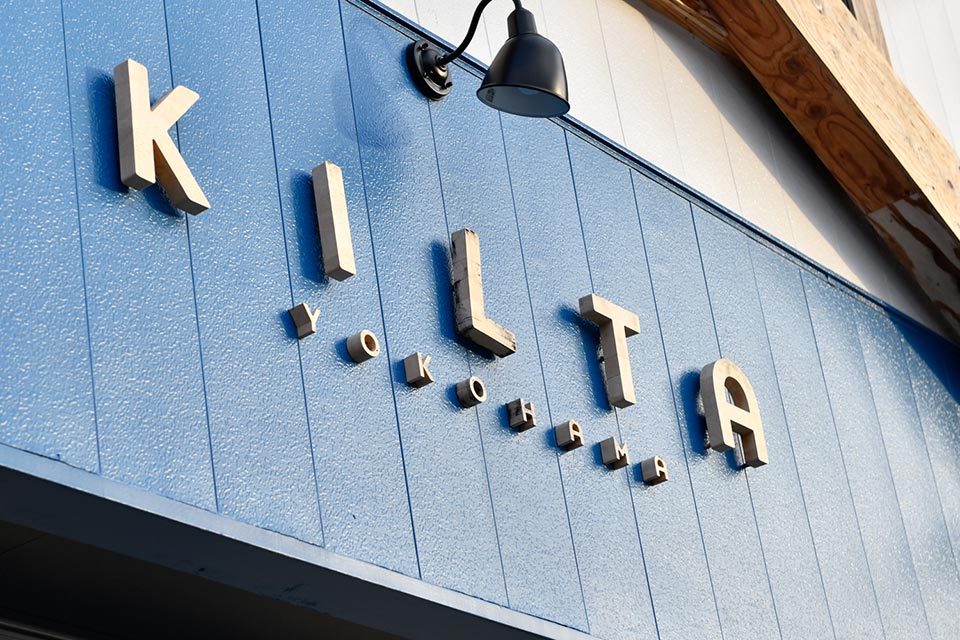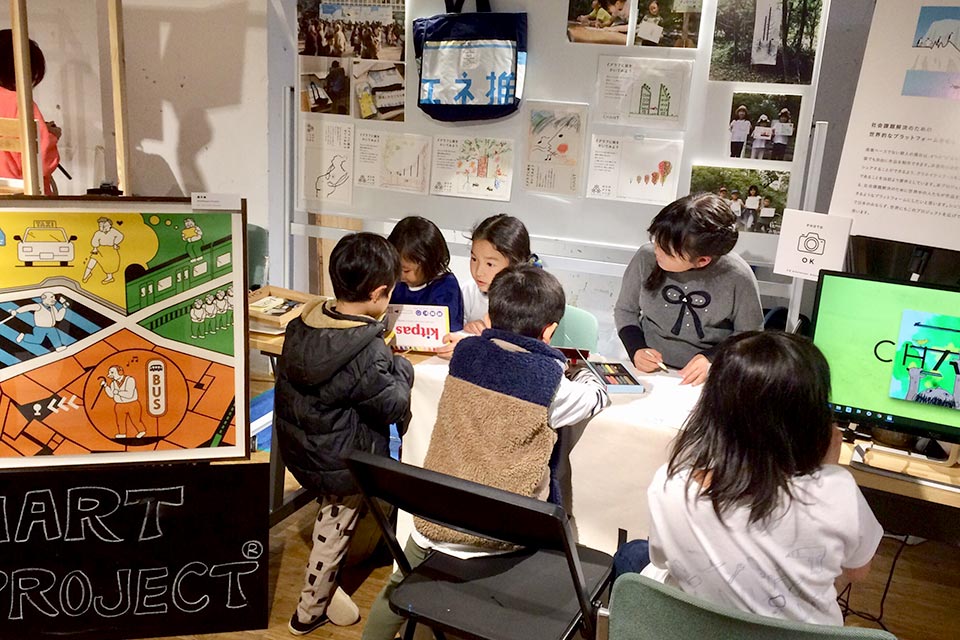 Sato:
Hitoshizuku joined "Hibi-no-te", the first-anniversary event of KILTA YOKOHAMA on November 25, 2018 with an exhibition and a chart project®️ workshop. It was a fulfilling event with some talks and DIT workshops, and, myself as a participant, I felt the atmosphere was very good and welcoming, so I think everyone at the event came to likeKILTA.
Especially, I remember moms with children were quite active. I realized, or rather, I was moved that we can show ourselves working to our children so naturally like that.
Mr. Kuwabara:
Thank you very much. Personally, I have some things that I think we could have or wanted to do differently, but I got so much feedback that the atmosphere was really good, so I thought maybe it's only me who regretted something. (Laughs)
About the mothers, I believe that's not because of me, but thanks to the non-profit company "Polaris" who co-organized "Hibi-no-te". I don't have any children, so through the event, I found out that we must think a different process when we work with working mothers and that there weren't doing enough at the DIT workshops for kids. Although I had conflicted feelings in my mind, I held that event because I wanted KILT to be for those mothers and children, and I think that event became a turning point.
"Society won't change if we don't cross a bridge towards people with different languages. That's what I want to address together with Hitoshizuku"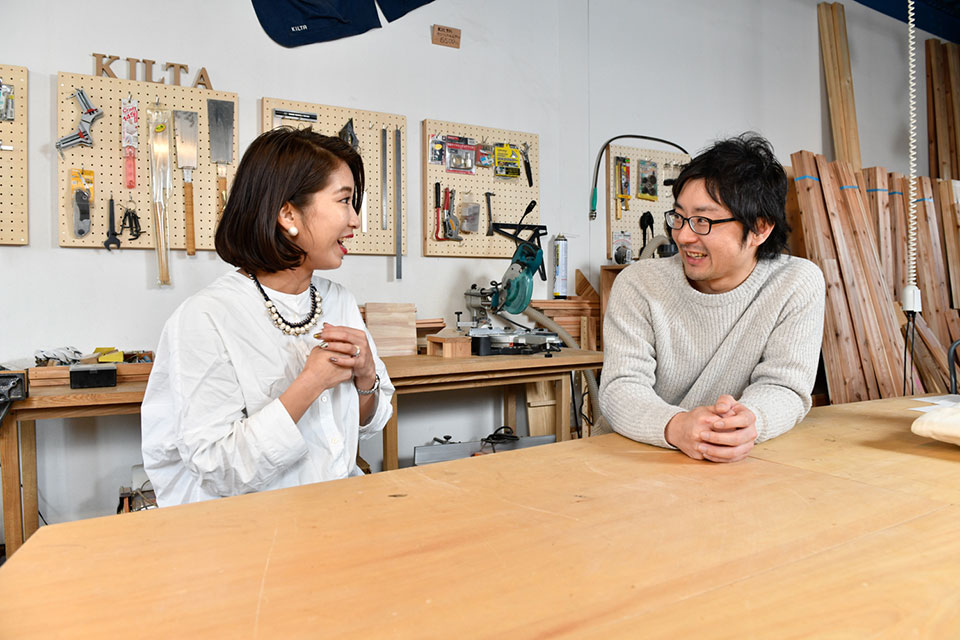 Mr. Kuwabara:
I want to make it easy to start something in society, and KUMIKI PROJECT is based on that thought. There's a mood that there's no freedom or that it's hard to realize something without money. But by doing it together, it costs less and makes easier to take the first step forward.
In order to take the first step, we need people who will take one with us. If people throughout Japan do something together, there will be many people who can make that start more easily. And increasing the number of people who "do it together" is the goal of the shared studio "KILTA". I think it's a hub for increasing the amounts of these two kinds of people: those who enjoy making their own lives and those who want to teach their skills to make those lives and support them.
But honestly, I'm not sure if KILTA does well. Now, we collect an annual fee of 10,000yen from individual members and they can use the place as much as they want, but we've been discussing whether a monthly fee would work better. I've always been thinking about how we make the place a community space for everyone while charging individuals as little as possible.
Sato:
You're publicizing those your trials and errors or struggles on your social media.
Mr. Kuwabara:
Well, I think it's good to be open about my work. Business life is also our everyday life. It would be nice if someone helps me when I say, "I'm in trouble". It's okay to put it out there for what I can do so.
Sato:
I think that degree of transparency is demanded very much in the realm of PR nowadays, too. I would say it's an era of accumulation since everything is recorded, and people ask for it. Social media in particular! It's difficult, but if you consistently keep doing it, it can build trust.
Mr. Kuwabara:
To me, social media functions in two ways: a compass to look back at what I was thinking a year ago and a tool to discipline myself as people see it. Projects move faster when I work with people who sympathized with my words, so I've been getting positive effects for now.
On the other hand, there are people whom we can't reach through social media. On social media, people connect with people who they can sympathize with. So, I also think that world is very dangerous.
For example, as I mentioned, I don't really know about parenting. Because I'm not connected with those people. So that's where I need a help of professionals, like you, to approach them.
If you ask me who I want to share our philosophy, "doing it together is important", with – the first group is people who sympathize with it. But the next would be people who don't understand it at all. Those who say things like, "Buy some food at a convenience store if you want to eat, it's easy and fast. What's the point of "doing it together"? Isn't that waste of time?".
If we can't reach those people, society won't change. We'd end up just getting "likes" from people who have similar thoughts and feeling good and that'd be it. I think it's important to think how we can tell people who speak different languages about what we do or what we think is important in their language as well – making a bridge between us and them. But I don't know how to do that yet. So, I think I'll continue to consult you about those things from now on.
Sato:
We have to learn more, too. We'd love to keep supporting your "doing it together" from the field of PR. We're looking forward to it!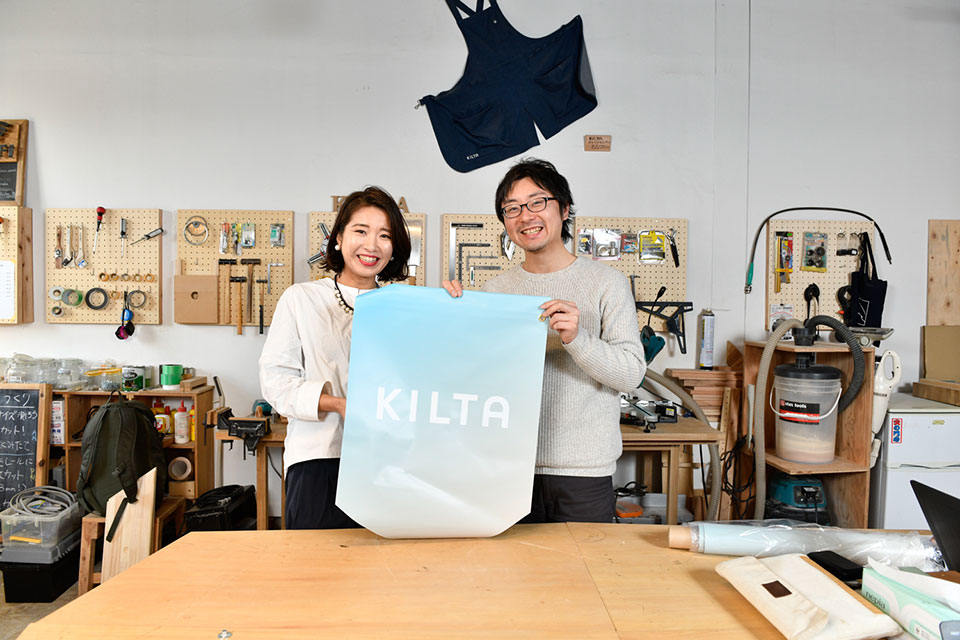 Photograph: Takahiro Yanai / Editing: Takako Chiba
RECENT WORKS
| | |
| --- | --- |
| Name | Hitoshizuku Inc. |
| Address | 3–33 Kitanakadori Naka-ku Yokohama-shi Kanagawa 231–0003 JAPAN |
| Phone | 81 045 900 8611 |
| E-mail | info@hitoshizuku.co.jp |
President
Hiroshi Kokubo
Established
March 2016
Capital
3,000,000yen
Business
Advertising & Public Relations Agency
Planning & Produciton of Social Good Projects
Lawyer
Junna Tei / Yokohama First Law Office
Tax Advisor
Satoru Motokoide / Uniques Money Advisory
Labor and Social Security Attorney
Office Work Innovation