CASE 07
SOZO LLC "Sakai-Awara Council of Co-existence and Convection"
(September 2016 – March 2017)
We supported trial tours of their regional green tourism starting from the gathering of participants. Which eventually motivated the locals to run the tour together.
With "vitalizing communities and agriculture" as their mission, Sozo LLC covers a wide range of regional development services. Mr. Takayuki Yoshioka, the president of Sozo, approached us and we took a role of public relations for green tourism of "Sakai-Awara Council of Co-existence and Convection" which were jointly launched by multiple regional organizations across Sakai and Awara cities of Fukui Prefecture, Japan.
It all started from the offer of managing and planning of a council that aims to revitalize the region.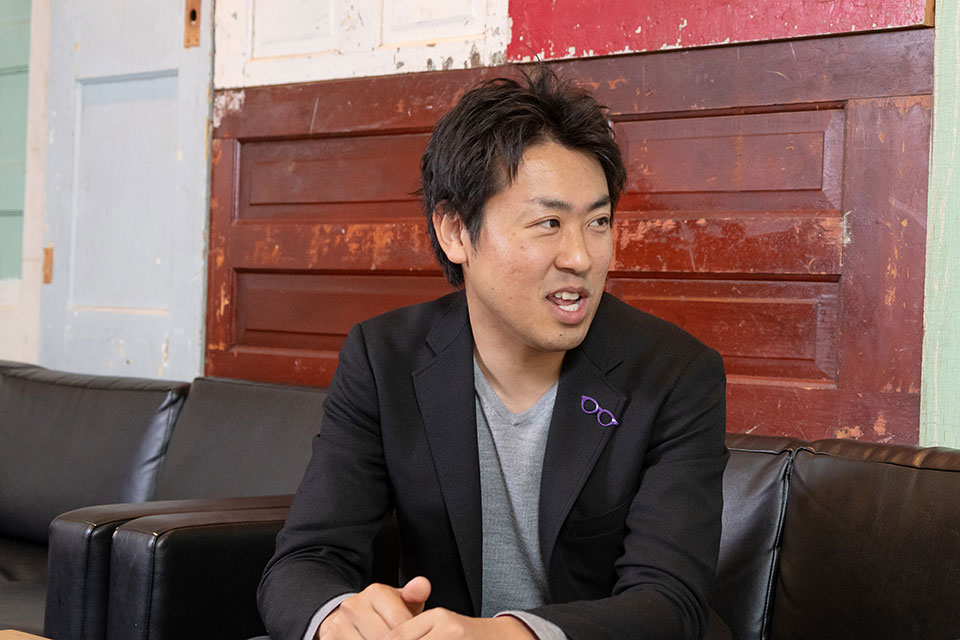 Chiba of Hitoshizuku (Chiba):
First of all, would you tell us how the council of Fukui Prefecture approached Sozo, and how you offered us the PR work?
Mr. Takayuki Yoshioka of SOZO LLC (Mr. Yoshioka):
Sozo LLC's business includes wholesale where we buy good farm products and processed food from all over the country and sell them to restaurants and retailers, and support agricultural diversification and tourism by agricultural producers and local residents. Around spring in 2016, Jin Inc. (currently MyFarm Inc.), who was doing chicken farming and had a farm restaurant in Sakai City, Fukui Prefecture at that time, asked us for some advice for the management and planning of the "Sakai-Awara Council of Co-existence and Convection". This council was a voluntary organization made to revitalize the joint region of Sakai and Awara cities, and Jin was playing the center role of that project.
I assume it's a common issue for local projects, but the circumstances of the council were that "people there really want to do something for the community, but they don't know how or where to begin". Also, everyone in the group has their own separate jobs and is working for the group at equal standings so there was no one person who led and ran the council. That's the reason a representative of Jin reached out to me.
Chiba:
It wasn't for promoting the green tourism at first, and they wanted to involve you into the managing and planning of the council, didn't they?
Mr. Yoshioka:
Yes, exactly. They asked me to join them as one of their main contributors and produce products. But it won't make any sense if I join the team and make something alone. I can provide market information and tell them which areas in the region are most appealing from an outside viewpoint, but it should be the people living there who produce something and keep things going. I always think that regional development is achieved by "educating people" and "growing people". If the countryside falls, the cities won't work, either. In order for the rural and urban areas to survive together, I think it's the theme of how people can grow where they are that's important.
Since I have such an idea, first I started with involving the local residents in the council. We, the members of the council, had a workshop with the locals once or twice a month for about half a year. What we did was quite simple, we asked them to "tell us anything that you are proud of about this region". With the same theme every time, but by changing the focus point to things such as "food" or "things close to you", we could discover a new charm that we couldn't even think about at first.
It's a process for letting them notice that they have many good things in their region and know that with their hearts and minds. It was also simply good that the members got to know and get along with each other though our monthly meetings. At that point when we pinpointed much of the charm of the area and got excited about it, we started to think, "how can we let many people know about this?". Eventually we got the idea of the "Green Tourism" project.
And when we decided to realize that tour, the publicity came up as a new issue. I could give some advice about the contents of the tour, but I'd been feeling that I didn't have enough know-how about, for example, garnering publicity for the tour and what we did, and how to promote it when we officially started it after that. So, I contacted Mr. Kokubo of Hitoshizuku, whom I've known since college, to ask him and his team to take part in it as a PR person.
"It has become a great asset for the community that we had a chance to try out the inbound tour."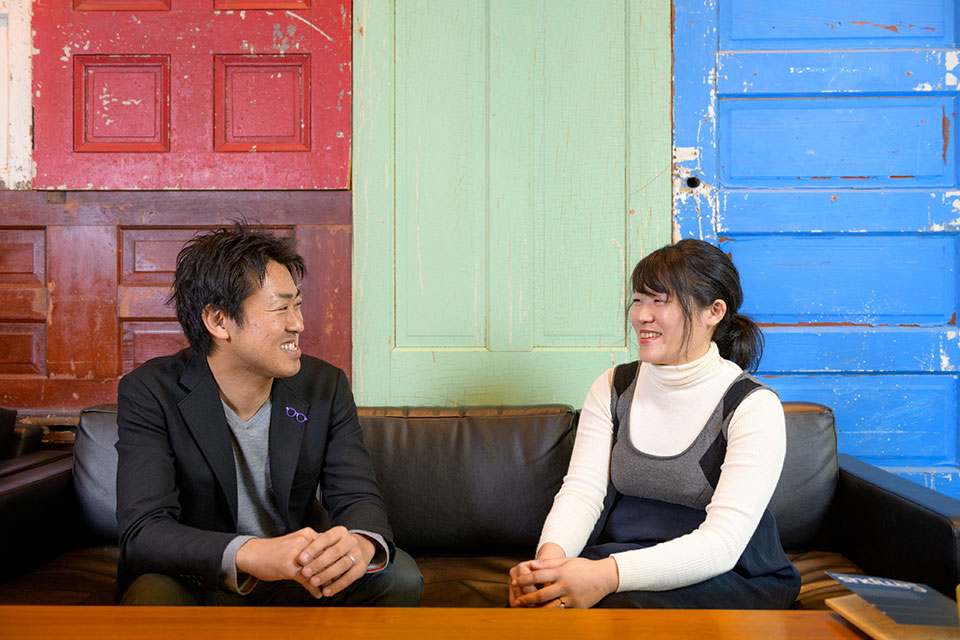 Chiba:
What expectations did you have when you consulted Hitoshizuku?
Mr. Yoshioka:
To be honest, I just instinctively thought of Hitoshizuku and reached out when I realized we needed help with PR, but I didn't have any specific expectations. I didn't know much about the PR field, so I was like, "what can they offer us?". But thinking back, I really think it was the right call.
Chiba:
Specifically, we were in charge of making PR strategy for getting participants of the trial tour, distributing press releases after the tour, supporting the tour, shooting photos and taking care of coverage by media on the launch day. At what point did you think it was good to work with us?
Mr. Yoshioka:
First of all, how you gathered people. We had two kinds of trial tours: one for families living in or around Fukui, and another for foreign tourists in expectation of increasing inbound visitors.
For the first group, we could get enough people by advertising in the local newsletter but we didn't know what to do about the "inbound tour", so it was very helpful that you gathered people using your network. It seems that it has become a great asset for the local people who hosted the tour to know about things like halal meals, practice communication in English and see what is interesting for the guests from outside of Japan. They showed a very positive attitude at the meeting after the tour, talking about what they could have done better or wanted to do next time, which further proved what an asset this experience was for the locals.
While the council itself was dissolved in March 2017, the organizations that participated in the council are individually working on green tourism now. A farmer, who was one of the members, said that they could take one step forward because of the experience through the tour. I also heard that each organization is using the pictures you took on the day of the tour for their own PR tools.
What we lacked was the promotion beforehand to get people involved. That experience became a good lesson for future projects.
Mr. Yoshioka:
I think it played a big role that you contacted the local newspapers and took care of the interviews with them. I believe that if I'd done it by all myself, I would've missed some things or couldn't have taken care of them all. Being printed in the local newspapers and recognized by people in the region is something that will connect to the future of the region.
Also, another thing that helped us was that you made a press release with the detailed report on the tour and it actually caught media's eyes. What the council was doing was supported by a grant from Ministry of Agriculture, Forestry and Fisheries of Japan, so it helped us to report to them the results as well.
Chiba:
As a person in charge, I'd been feeling that we provided limited support only immediately before, on the day of and after the tour, so I felt relieved to hear that we could provide more lasting help for everyone in the community. Then, on the other hand, I'd like to hear your honest opinion, but was there any area where we didn't do enough, or you felt you needed more of our help?
Mr. Yoshioka:
Well… It couldn't have been helped because of the schedule, but it would've been better if we had put more effort into PR before the trial tour. What I mean by that is, the PR here is not only just letting many people know, but also promoting to get more people involved.
More specifically, it would've been good if we had let travel agencies based in the region and the ones who also have a base in nearby cities know about the project, and created a movement that lead to a future possibility of a package tour or any sort of commercialization. The main reason that we couldn't commercialize our green tourism was a law called the "Travel Agency Act." And we could've overcome that if we had been able to involve a travel agency. I've learned a lot through finding challenges in promoting beforehand in terms of business.
Chiba:
Right. We're sorry that the project didn't become a commercialized tour, and there might have been something we could do more. We've continuously been working for public relations to solve the issue that local regions have, so we'll work on the promotion towards stakeholders by putting forth that specific goal you've just pointed out in our mind.
Mr. Yoshioka:
It didn't achieve the commercialization as a whole package, but I'm sure it dedicated to make a foundation for the local people who joined the project. Consulting or producing or resolving local issues tends to end by leaving only the locals the feeling of "we've done something nice, it was good" once the people outside leave. The biggest challenge is that how we can make what we did into a tool for the locals and make it really "theirs". And I feel we could achieve that this time.
I'd love to keep building a working relationship with you on the experience this time, and I'm looking forward to it.
Chiba:
Yes, same here! We're looking forward to it, too!
 
Photograph: Takahiro Yanai /
Editing: Takako Chiba
RECENT WORKS
| | |
| --- | --- |
| Name | Hitoshizuku Inc. |
| Address | 3–33 Kitanakadori Naka-ku Yokohama-shi Kanagawa 231–0003 JAPAN |
| Phone | 81 045 900 8611 |
| E-mail | info@hitoshizuku.co.jp |
President
Hiroshi Kokubo
Established
March 2016
Capital
3,000,000yen
Business
Advertising & Public Relations Agency
Planning & Produciton of Social Good Projects
Lawyer
Junna Tei / Yokohama First Law Office
Tax Advisor
Satoru Motokoide / Uniques Money Advisory
Labor and Social Security Attorney
Office Work Innovation