Case 06
Patagonia Japan
(April 2018)
Eyes from the Outside Empower the Inside.
Patagonia is known as a worldwide outdoor brand. The Patagonia Japan's Society and Environment department supported the "Kaminoseki Nature Project", which promotes the rich natural surroundings of Kaminoseki City, Yamaguchi, Japan. When "Marugoto", local lodgings which offer many ways to enjoy and experience the Kaminoseki area, which is also hub for this project, was going to open, they consulted us about the promotion of its unveiling ceremony. We interviewed Ms. Etsuko Nakanishi, an activism coordinator of Patagonia's Society and Environment department.
"We needed to cooperate with people outside the company to get to a substantive solution" With Hitoshizuku, they tried a new approach.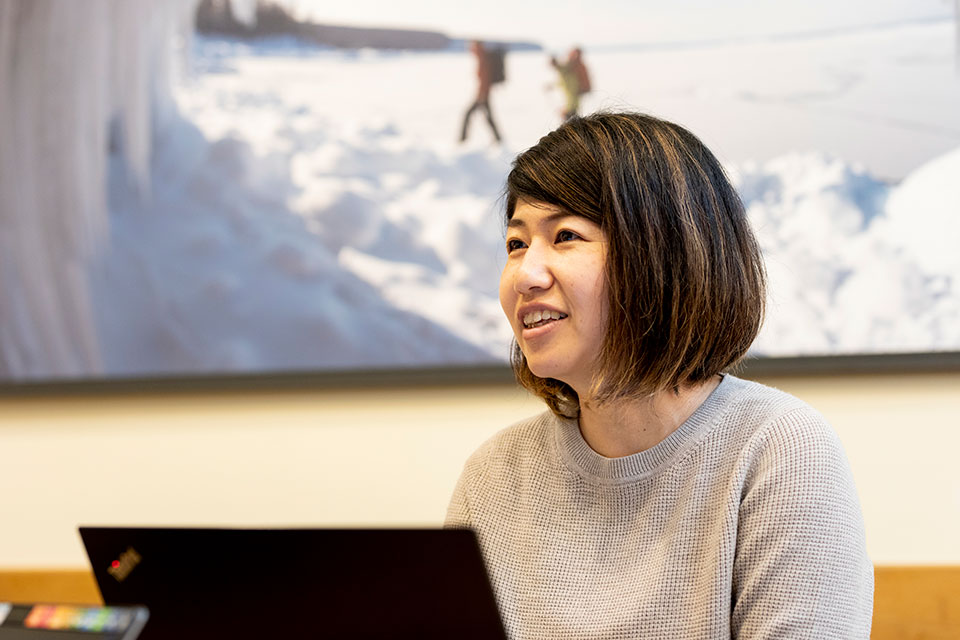 Kaneko of Hitoshizuku (hereinafter, Kaneko):
To begin with, would you tell us what kind of issue did you have when you first consulted us?
Ms. Etsuko Nakanishi of Patagonia Japan's Society and Environment department (hereinafter, Ms. Nakanishi):
Patagonia has been working on environmental or social issues with non-profit organizations such as NGOs and NPOs both in the United States and in Japan. However, the circumstances of environmental activism – for example, financial foundation of the organizations, people's mindset, laws and media are different in those two countries.
In the US, there are many paid staff who have expertise, experiences and skills, and they have a voice and power to act. Our company often creates "environmental campaigns" as an opportunity to work on solving issues with organizing partnerships with them.
On the other hand, within those environmental organizations in Japan that our Japan branch supports, not many of them have paid staff. Japanese organizations are enthusiastic and have wonderful persistence, but sometimes they lack strategies for problem solving or resources for expanding their actions and getting many people involved. Because of that, in some cases they need intangible support for their fundamentals, which is a know-how of running an organization, making strategies, and marketing skills in addition to providing funds and human resources through programs such as environmental grants or internships.
For those issues of Japanese organizations, we've had a program called "Tools for Grassroots Activists Conference" hoping to utilizing Patagonia's assets to solve most urgent environmental issues.
We invite experienced people as lecturers and create an opportunity to think about how to make actions more effective to achieve goals. We've been feeling that just providing a temporary opportunity doesn't lead to any real solutions, as those organizations don't have enough manpower, and it's nothing but a palliative effort for when they go back to their organization. We were thinking that we need to continuously create an ecosystem of those actions with those who have expertized skills and thoughts for the actual place where the issue is happening by utilizing Patagonia's network.
It was around that time when we talked to Mr. Kokubo of Hitoshizuku, who I'd known for a while. We hadn't relied on to any outside resources for the work around environmental or social issues including public relations, and basically what we had done was logistic support, but as I said, we thought it was necessary to get many people involved and work on as a team, not only the Japanese environmental organization and us. I already knew through other chances that Mr. Kokubo had been experienced in public relations for NPOs and NGOs, so I was thinking it was the good time to collaborate.
Kaneko:
It was very exciting for us to work with Patagonia, who is a leading company in the field of sustainability. In that project, what was the issue specifically?
Ms. Nakanishi:
In the project of "Marugoto", lodgings which offer many ways to enjoy and experience the Kaminoseki area, we'd been able to create the concept based on the vision and build the actual facility thanks to the cooperation of volunteers, local fishers, students and an architect in addition to the members of an environmental organization, but the last part, promotion wasn't enough.
Although people in the local environmental organization are professionals with knowledge of nature conservation, they needed more work or a new cooperation in order to expand and share that with people. Also to save the natural environment of the sea for children and create richer connections within the community, we thought that we needed to approach not only people who care about nature, but people who we hadn't reached out to, such as parents, those who were looking forward to the new accommodations, companies and students in Yamaguchi Pref. and residents in the neighborhood.
It was at the pre-opening of "Marugoto" when I got an idea like that. It was a symposium-type event and the contents were quite technical with the viewpoint of research and studies. It was the first one of a series of opening ceremonies showing the gratitude from the organization, so those who we invited were mainly people who they'd already known, such as researchers. To expand it to regular folks, I thought we needed a new approach with a different angle.
"Outside eyes" inspire the inside – That might be the effect of PR.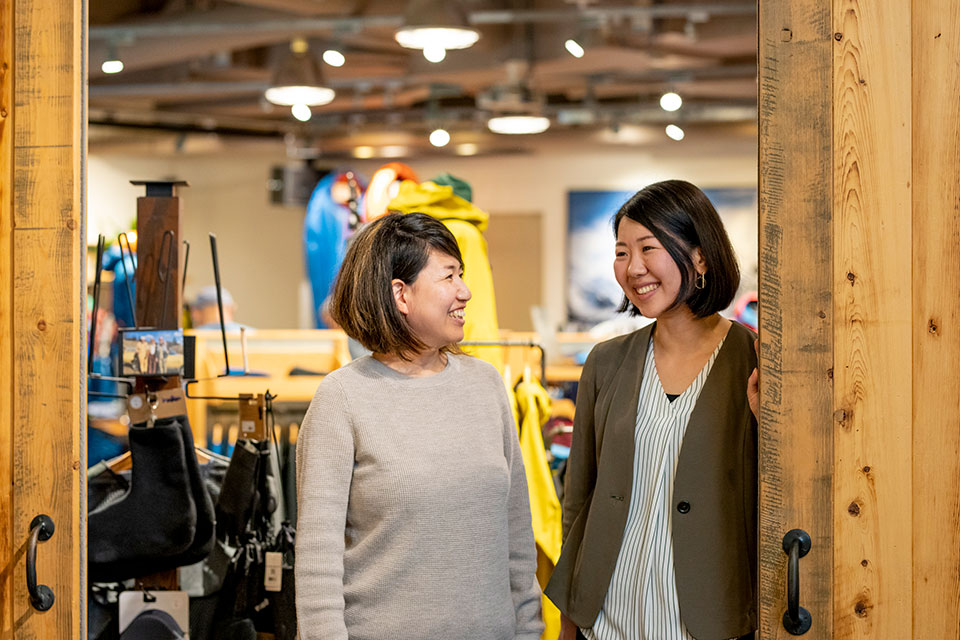 Kaneko:
At the opening party of "Marugoto", we invited people such as media specialized in the community and natural environment, the ones specialized in parenting, a guesthouse advisor, and picture book artist. What kind of results do you feel you got?
Ms. Nakanishi:
First of all, each of the media wrote articles with different points of view that inspired the local people. Also, every article relayed the concept of the project very well, so I felt they empathized and understood our project. Which means you chose people who share our sensibility, so thank you.
Also, having a guest house advisor motivated the facility manager, Mr. Kengo Ueda, who is the central figure of Marugoto, to become conscious of the "outside eyes" as a more essential meaning.
In a case where the project is rooted in a community, it would be meaningless if we lead the project, and what I feel important is how we can get more members so that local people can operate by themselves… how to create openings. I hope that, as the circle of support and cooperation expands and attracts more "outside eyes", they aim to maintain a quality that lives up to the expectation from new guests.
Kaneko:
So, what you're saying that generally people have an image of public relations as telling something to the outside, but that actually it works to change the inside. That's what we think as important, too. You said it was inspiring for the local people, but what kind of change specifically did you see?
Ms. Nakanishi:
First of all, the fact book you made for introducing the project to the media was surprising for them. We'd advised them to "speak to average people", but they had been having a hard time finishing the documents by themselves. This time, they saw a document made from the viewpoint and by the power of the outside, so I think it has become clearer where they can draw a line between information based on ideas such as "we don't have to tell everything", "what to tell and not", "average people can understand with this information".
Kaneko:
In the production of the fact book, Hitoshizuku joined on the day before of the unveiling ceremony, and we had a meeting with everyone, including you and the local people. I believe we could have made it better by sharing the recognition with the people there and creating words together. People there have the answers, but we need to work on how to present them.
Ms. Nakanishi:
I heard that they still use the fact book as a tool to share the big picture of the project to visitors from outside the area. I think it was great for the local people to meet people of Hitoshizuku or outside the organization because they could understand how to tell or what to tell depending on who they talk to.
"We became a team of people who have similar motivations and senses, and we could work without worries."
Kaneko:
On what point do you think it was worth asking Hitoshizuku?
Nakanishi:
We had a short preparation time and lots of changes, so it was necessary to work while responding to the changing situations. I believe the reason we could build up things little by little without getting into a rut and made it to a completion even under such circumstances was because we could run alongside Hitoshizuku as a team with a sense of unity. That is a good thing about working with you. And I believe Ms. Takashima and Mr. Ueda of the Kaminoseki Nature Project feel the same.
Kaneko:
We ended up communicating for the event by calling and texting over social media, and thinking back, I've just noticed that we didn't have any formal meetings (laughs). With that good speed, I also felt like we were a team.
Ms. Nakanishi:
Right. Also with Mr. Kokubo, one time it was supposed to be a brief call, but I was talking like we were having a meeting before I noticed it. When we are in a hurry, usually there's some kind of a tension, but we somehow could feel safe and work on without stress thanks to the feeling of a "team". I'd felt that Mr. Kokubo has similar motivations or feelings in addition to the similar awareness towards issues.
Patagonia Japan stopped simply supporting and began actually solving social issues together and cooperating with outside organizations and people when necessary. It was around the time when Mr. Kokubo started Hitoshizuku and had gotten on track, and was perfect timing for us to ask him. Members of Hitoshizuku, staff of Patagonia and the local peop – all had the same goal and we felt like we were one team. We've created that atmosphere, so other staff could work without any worries. I feel it's very good and strong to have a company on the outside that we can rely on when we need help.
I believe we can create new relationships and new ideas when we have a deeper understanding of each other's relationships and roles that each of us take to solve an issue, and face the ultimate goal or the future we want. I could actually feel that this time. Thank you very much.
 
Photograph: Chisato Hikita /
Editing: Takako Chiba
RECENT WORKS
| | |
| --- | --- |
| Name | Hitoshizuku Inc. |
| Address | 3–33 Kitanakadori Naka-ku Yokohama-shi Kanagawa 231–0003 JAPAN |
| Phone | 81 045 900 8611 |
| E-mail | info@hitoshizuku.co.jp |
President
Hiroshi Kokubo
Established
March 2016
Capital
3,000,000yen
Business
Advertising & Public Relations Agency
Planning & Produciton of Social Good Projects
Lawyer
Junna Tei / Yokohama First Law Office
Tax Advisor
Satoru Motokoide / Uniques Money Advisory
Labor and Social Security Attorney
Office Work Innovation